Spoiler warning!
This Wiki contains detailed information regarding the Girls und Panzer universe.
Proceed with Caution!
"It's hopeless now, Yuzu-chan !"
―Momo panicking under a pounding by Saunders tanks.
Momo Kawashima (河嶋 桃, Kawashima Momo) is the loader (originally both loader and gunner) of the Turtle Team and one of the three secondary protagonists of Girls und Panzer.
Profile
Momo is a third year student from Ooarai Girls High School. She's also the PR manager of her school's student council. She started as the gunner and loader of Turtle Team, and when its Panzer 38(t) was converted into a Hetzer she took her definitive position of loader.
Appearance
Momo is a girl with short black hair and black eyes. She wears a monacle, the personal addornment of a black "choker" necklace ribbon, and personalizes her uniform with a neckerchief that has pointed tips rather than the typical squared-off tips.
Personality
At the beginning, Momo appears to have a very cool and strict personality, barely showing any emotions. However, she soon reveals a more passionate side, with heated outbursts of indignation, aggression, anxiety, and at times even hysterical despair. These outbursts appear especially during their Sensha-dō matches, but also during training and when drafting tactics for their matches (such as when Miho questioned her strategy's effectiveness). Beneath all else she shows a constant determination to avoid defeat at any cost. These outbursts perhaps contribute to a notoriously poor aiming record of precisely no confirmed hits during her time as gunner.
The reason for her aggressiveness and quick temper is revealed during Ooarai's match against Pravda, when she snaps at Miho (who had just suggested that surrender might be acceptable), explaining that the school will be closed if the Ooarai Sensha-dō team does not win the national championships. Her devotion to the school, and her desire to save it by winning no matter what, had likely brought her to be so vehement. This is also apparent when, after their victory in the Finals, she tries to thank Miho but instead breaks down in tears from relief.
She also possesses a softer and kinder side (although it's very difficult to get a glimpse of it), as is shown in a picture of her smiling (implied to be a rare event); she also smiles during a camping trip, although she quickly and vehemently denies it when Yuzu points it out. This kinder side is also shown in her interactions with her family in Das Finale.
In her role as a member of the student council, she also has a tendency to give longer and more elaborate or formal speeches than is strictly neccessary. It is perhaps as an extension of this tendency that she often nudges Miho forward into a more vocal role as commander of the team, urging her to encourage the team and to keep the team's spirits up.
In Das Finale it is revealed that Momo was responsible for saving several delinquent students from the Naval Studies Department of Ooarai Girls Academy (who eventually become Shark Team) from expulsion, implying that despite her authoritarian side, she is not without considerable compassion.
Background
Momo is the Ooarai Girls High School PR manager of the student council, together with Anzu and Yuzu responsible for the revival of her school's Sensha-dō team in a gamble to forestall the school's closure due to financial problems (although at the beginning this is not revealed).
After Ooarai's long lost tanks had been found, she was the one to assign them to the various teams. At this time she joins the rest of the student council in crewing the 38(t), initially serving as both loader and gunner. The role of gunner, however, soon proves to be a poor fit: during the exhibition match against St. Gloriana Girls College, Momo misses a point-blank range shot on the St. Gloriana's tank commanded by Darjeeling; instead, her own tank is knocked out.
Similarly, in the first round of the 63rd National High School Sensha-dō Tournament, when facing Saunders University High School, she is unable to land a hit while pursuing the Saunders flag tank.
During the semi-final match of the Sensha-dō competition against Pravda Girls High School, after Ooarai's tanks are forced to take shelter in an abandoned building, Pravda's overall commander, Katyusha, offers Miho and the rest of the Ooarai team three hours to decide whether to surrender. During this short truce, circumstances force Momo to reveal to Miho that if they are unable to win the tournament, their school will be closed. Her disclosure affects the entire team deeply, and leads Miho to decide to fight on. During that match, she mostly gives up her gunner's position to Anzu and subsequently serves quite competently as the tank's loader.
Prior to the final round match of Sensha-dō competition against Kuromorimine Girls Academy, Momo suggests that the Anglerfish Team's tank be augmented with "Schurzens," or armored skirts. When the Student Council's tank is converted into a Hetzer, she again takes over the loader position.
After winning the tournament, her emotional side overwhelms her calm, and when she tries to thank Miho for making the victory possible, she breaks down crying, and is comforted by Yuzu.
Later, in Das Finale, after Momo's academics have faltered due to her dedication to finding the Sensha-dō Team another tank, she is put in the position of Sensha-dō Team commander. It is hoped that her success in the elective will provide a way for her to get into a good university.
Trivia
The name Momo means "peach" (桃).

All 3 members of the Turtle Team have fruit-based names.
Momo's surname Kawashima means "river, stream, brook" (河) (kawa) and "island" (島 or 嶋) (shima).
When Katyusha demands Ooarai's surrender, Momo responds by saying "Nuts!". This is a reference to Anthony McAuliffe who in the Battle of the Bulge was encircled and his surrender demanded. In response he sent a note to the Germans with the solitary word "Nuts".
Momo seems to be a skilled ballet dancer, performing a 32-revolution pirouette without problems.
As of Girls und Panzer Der Film she has one confirmed hit on one of St. Gloriana's Crusaders (Rosehip's) —though her shot was actually approximately 25 meters off target, given that she was at the time in fact trying to disable Darjeeling's Churchill.
She has five younger siblings: four sisters and one brother.
She bears a striking ressemblance with the character Beniko Mussolini from Takeshi Nogami's manga Serafuku to Juusensha, even wearing her signature monocle.
She has athletes foot, according to Yuzu.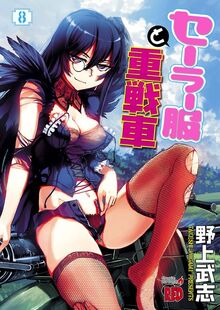 Gallery
Main article: Momo Kawashima/Gallery
Community content is available under
CC-BY-SA
unless otherwise noted.