Spoiler warning!
This Wiki contains detailed information regarding the Girls und Panzer universe.
Proceed with Caution!

Girls Und Panzer: Ribbon Warrior (ガールズ&パンツァー リボンの武者, Girls Und Panzer: Ribbon no Musha) was a manga spin-off made in collaboration with manga artist Takeshi Nogami and military advisor Takaaki Suzuki, published under Comic Flapper starting from the September 2014 edition. It is both a sidestory and sequel to the Girls Und Panzer anime, featuring the story of Shizuka Tsuruki, a student from Tatenashi High School who participates in Tankathlon, an alternate tank sport alongside Senshado.
Premise
Tankathlon is a new form of tank sport slowly gaining popularity among Senshado enthusiasts. While also involving tank battles, Tankathlon is distinguished by its lack of official oversight allowing any school with tanks to participate in a battle anywhere at any time, and a 10-ton weight restriction on tanks used, limiting battles to light tanks and tankettes.
Characters
Tatenashi High School:
Saunders University High School: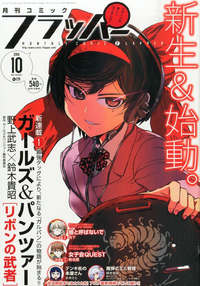 Nibelungen Team:
Schwarzwald Kampfgruppe:
Guy Fawkes Team:
Chindits:
Kebab High School:
West Kureouji Grona Academy:
Japan Sensha-Dō Federation:
ONI Team:
Rei Kodai
Kaoru Saeki
Sei Takizawa
Gallery
Community content is available under
CC-BY-SA
unless otherwise noted.