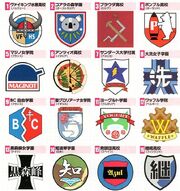 The 63rd National High School Sensha-Dō Tournament is the main sensha-Dō tournament featured in the series.
The tournament matches are fought under flag-tank rules, wherein the first team to knock out the preassigned flag tank of the opponent is the winner.
The tournament rules allow for ten tanks maximum per side in regular matches, fifteen per side in the semi-finals and twenty per side in the finals.
Participants

Trivia
This Tournament's edition saw the revival of Ooarai Girls Academy's Sensha-Dō Team, which had been long discontinued. It also saw the Ooarai team (led by former Kuromorimine student Miho Nishizumi) gaining an upset victory in the championship by defeating both the defending champions and the favorite school in two consecutive matches.
This victory also ensured the survival of Ooarai Girls Academy, previously threatened to be closed due to budget restraints, until MEXT Official Renta Tsuji goes back on his promise.
Ooarai fought (and won) every battle of the tournament at a numerical disadvantage.
All of Ooarai's successful eliminations of flag tanks stem from the strategy of isolating the enemy flag tank in 1v1 or 2v1 engagements.
Not all schools that practice Sensha-Dō took part in the tournament, such as (Count High School, Gregor High School, Maple High School and Viggen High School).
Community content is available under
CC-BY-SA
unless otherwise noted.